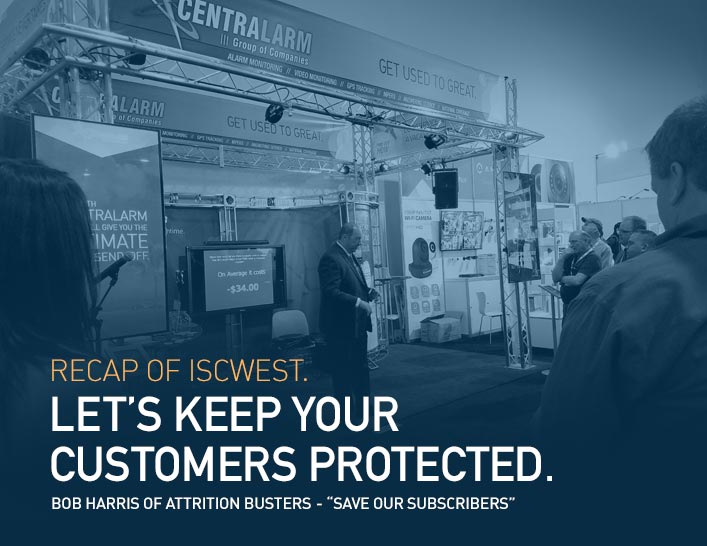 Freshly off the show floor at the at the ISC West Conference in Las Vegas, I was awed by the energy and enthusiasm the Centralarm team displayed during an extremely busy conference. Thanks to the Centralarm group for having me out to speak at the booth and share some stimulating ideas on ways to both save as well as prevent more customer cancellations than we may be saving now. Today, it costs security companies approximately $36 to replace one single dollar of recurring revenue lost when a customer cancels for any reason. This is an astounding number! If you lose just one customer paying you $25 per month, the cost to replace that customer is about $900. As we continue to devalue or service by competing on low price, our account creation multiples continue to rise. How much does it cost when we fail to save three avoidable cancellations in one month? What about four? How much does it cost to replace ten?
In my travels working with dozens of private alarm companies across the country, I see far too commonly, front line company employees actually helping customers cancel as opposed to helping them change their minds and stay. Why you ask? Frankly, it is a lack of training and education. There are so many exciting ways to redirect many of the customer cancellations we experience every day yet few employees have ever been taught how to do it really well. And those who have and do, are saving countless thousands of dollars by creating their own economy for that company regardless of the state of the actual economy!  Even more interesting is that in the process of an effective prevention and retention program, you are far more likely to generate increased recurring revenue and save the customer than you are to generate negative revenue by having to replace the customer you failed to save. Again, the problem is too many of us simply don't invest a penny in education to stir the pot.
Another example of the cost associated with no training is in our sales force.  It is unbelievable to me that a sales based recurring revenue model business invests absolutely nothing in sales or customer service training throughout their entire organization. Vendor based product and technology training doesn't count. The cost of investing nothing creates a path to compete on price as opposed to value. Without meaningful stimuli, employees inherently seek out the simplest path to solving a problem. As a result, in many cases they will simply give away the store to save a customer or create a sale when a little knowledge would empower them to not only save the customer or make the sale but also generate more recurring revenue by adding or changing service or to sell something as opposed to giving something away. 
Those who attended the Centralarm Attrition Busters booth time session at ISC West, derived some big time takeaway on very specific ways to save more cancellations. Those who didn't stop bye… Well they're probably still lowering the price to save a customer who already doesn't make them much money to begin with. Bye the way, the summer door knocking programs are starting up right now. These unscrupulous alarm pirates are gearing up to take away even more of your precious customer base. How is your retention and training program working? If you don't invest in any education for your team, how many new customers will you have to sell next month only to replace the ones your team failed to save this month? 
DOWNLOAD BOB'S "CHEAT SHEET" HERE > SOS retention guidlines
Comments